CNC Machining Plastics Iowa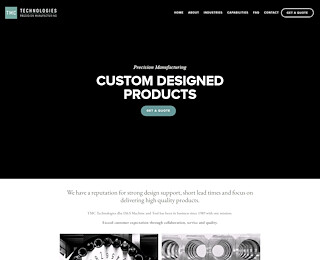 Affordable CNC Machining Plastics: TMC Technologies
We are a well-liked option for a variety of industries, but it's crucial to pick a CNC machine shop that can satisfy your precise requirements. We provide a range of CNC machining services at TMC Technologies using premium plastics and other materials. To produce parts with precise tolerances and high accuracy, our skilled machinists employ CNC precision equipment.
Capabilities of Our Shop
TMC Technologies has the CNC machining resources to handle both big- and small-project demands. We employ a range of CNC machines that may be programmed using different CAD applications. Our team is prepared to handle all of your CNC machining requirements, including CNC milling, CNC turning, and CNC grinding.
What We Offer
TMC Technologies works with highly trained CNC machinists who have knowledge of a range of plastics and other materials. Our staff has a wealth of expertise in CNC machining for a variety of markets, including the production of medical devices, aerospace engineering, automobiles, and industrial automation. To ensure high-quality work, all of our machinists have undergone rigorous training from licensed engineers.
Industries We Serve We are dedicated to offering trustworthy CNC machining services that are reasonably priced. Our facility has the capacity to create pieces with a variety of sizes and thicknesses as well as intricate geometries like curves and pockets. With years of experience in CNC plastics machining, our CNC machinists can guarantee that your components will be of the greatest quality and precision.
At TMC Technologies, we collaborate with a range of sectors, such as automotive, aerospace, medical device, electronic product, and more. No matter what sector you work in, our CNC machining services will satisfy your requirements.
Here are some expert recommendations for choosing a CNC machine shop to suit your needs for CNC machining plastic.
Seek out a business with experience with the kind of plastic you need to utilize for CNC machining.
Inquire about their quality control procedures and the way they uphold strict tolerances.
Verify that the CNC machine operators have the required education and credentials.
To be sure your parts will be ready on time, ask about their turnaround timeframes.
Key Points
– CNC machining plastics is a common option for many industries.
– TMC Technologies provides skilled machinists, precision equipment, and affordable CNC services.
– Consider the kind of plastic they can work with, their quality assurance procedure, and turnaround time when choosing a CNC machine shop.
TMC Technologies offers CNC machining plastics to a range of sectors.
TMC Technologies also offers CNC turning, CNC milling, and CNC grinding services.
– Our facility is outfitted with the newest CNC equipment and skilled CNC machinists for the creation of precise and dependable parts. All of our components must adhere to the strictest quality and precise requirements.
TMC Technologies is dedicated to offering trustworthy and reasonably priced CNC machining services. No matter what your industry or product requirements are, our skilled team of CNC machinists can assist you in producing high-quality parts swiftly and effectively. We are convinced that with our experience in CNC plastic machining, we can give you the best results for your project.
TMC Technologies LLC
+1 712-792-5512
2047 Industrial Park Road
Carroll IA 51401 US