CNC Precision Machining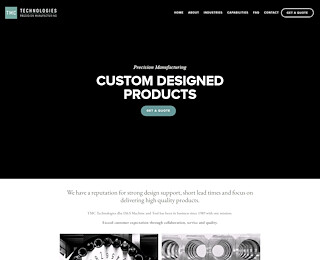 CNC Precision Machining: TMC Technologies
CNC precision machining is a critical process for the manufacturing industry, allowing businesses to create precise components through computer-controlled cutting tools. CNC stands for computer numerical control, and it uses sophisticated software to program automated machines that precisely shape raw material into complex shapes with exact dimensions. At TMC Technologies- we specialize in CNC precision machining services that ensure high accuracy and quality parts.
Why Precision Really Matters In Machining
When producing parts for any application, precise measurements and angles are essential for proper function. CNC precision machining gives us the ability to produce parts with extremely tight tolerances and superior surface finishes compared to manual processes. This helps minimize waste by reducing scrap from incorrect dimensions or damaged surfaces caused by manual machining. CNC precision machining also increases quality control and reduces the possibility of human error.
Why Our Shop Is the Best Choice for CNC Precision Machining
Our CNC stand-alone milling machines and other equipment are fully designed to provide high accuracy and repeatability in producing complex parts with tight tolerances. To ensure that each part is created to the exact specification, we use only the highest quality CNC machinery, plus our experienced CNC technicians are continuously trained on the latest technology and techniques. With our state-of-the-art CNC precision machine shop located in NYC, we can optimize turnaround times for any project.
Our Shop's Equipment and Capabilities
At TMC Technologies, we offer a variety of CNC precision machining services using the most advanced CNC equipment available. We specialize in CNC milling, CNC turning, CNC drilling, CNC grinding, and CNC routing. Our CNC precision machines are capable of creating complex parts with tight tolerances that result in superior surface finishes. Additionally, our shop is equipped with various inspection tools to ensure accuracy and quality control.
Tips for Achieving Your Goals With Precision Machining
We have years of experience in CNC precision machining and understand the importance of producing high-quality parts within budget and timeline requirements. To make sure you get the best results from your project, we recommend a few tips:
Be sure to provide detailed drawings and specifications for CNC machining to ensure accuracy.
Provide tolerances that allow for CNC machine capabilities in order to reduce time and cost.
Work closely with your CNC machinist throughout the entire process to ensure you get the best results.
Take advantage of CNC precision machining services when creating complex parts with tight tolerances.
Key Takeaways
CNC precision machining is essential for producing high-quality components with exact measurements and tight tolerances.
TMC Technologies provides CNC precision machining services using state-of-the-art CNC equipment and experienced CNC technicians.
Following a few tips can help you achieve your desired results with CNC precision machining.
Our CNC precision machine shop in NYC ensures quick turnaround times and superior quality control.
Contact TMC Technologies today to learn more about CNC precision machining services.
TMC Technologies LLC
+1 712-792-5512
2047 Industrial Park Road
Carroll IA 51401 US