3 Axis CNC Machining Iowa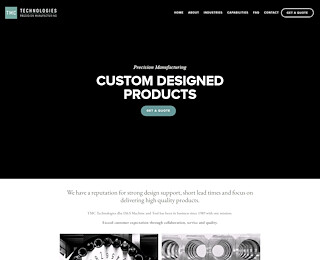 Custom 3 Axis CNC Machining
TMC Technologies is a cutting-edge engineering and manufacturing company that specializes in custom-designed machines and tools. Our 3 Axis CNC machining capabilities offer customers the highest level of quality and precision, enabling them to create components with greater accuracy and speed than ever before.
What We Do
At TMC Technologies, our team of experienced engineers and technicians use state-of-the-art 3D CAD/CAM software to produce custom parts, prototypes, and components quickly and efficiently. Our 3 Axis CNC machining allows us to create intricate parts with superior accuracy, speed, and repeatability. With these tools at our disposal, we are not only able to provide short turnaround times but also increased reliability in our processes.
Our 3 Axis CNC machining capability benefits our clients through a number of advantages: improved productivity, faster turnaround times, decreased need for manual labor coupled with greater efficiency, minimized material waste due to precise part production, enhanced accuracy in assembly operations, increased strength or part integrity due to stronger joints from controlled pressures applied during the machining process.
Who Needs 3 Axis CNC Machining?
TMC offers its three axis machining service to a wide variety of clients in many different industries, such as aerospace, medical device manufacturing, transportation equipment manufacturing, and automation systems integration. Those who use this service benefit from the consistent accuracy provided by exact machine control, allowing them to remain competitive in their respective markets while reducing costs associated with human labor or other modes of production.
Quality Guarantee
At TMC Technologies, we take pride in the products we deliver. That's why all of our custom-machined parts undergo stringent quality controls using up-to-date technology that ensures 100% customer satisfaction on every order we fulfill. We also have an experienced staff that takes responsibility for every project from start to finish providing peace of mind for customers knowing their components will be made correctly without any issues arising down the line.
Costs Involved
The cost of using TMC's Three Axis CNC services varies depending on the complexity or size of the part you need to be manufactured; however, our prices remain highly competitive due to our efficient design process, which results in shorter lead times without sacrificing quality standards. In addition, we can work within almost any budget range, so you can be sure you're getting the best price possible for your project, no matter what it may be.
Key Takeaways:
TMC Technologies provides custom-designed machines and tools specializing in 3 axis CNC machining
Advantages achieved include improved productivity, speed & increased reliability
Our services are used by a variety of industries including Aerospace & Med Device Mfg.
Every product goes through strict quality control measures to ensure customer satisfaction
Prices are highly competitive making us a great value with no loss of quality guaranteed
For those needing reliable precision components requiring exact machine control on a tight timeline look no further than TMC Technologies for all your custom three axis CNC requirements! Our commitment to quality assurance paired with industry-leading technologies puts us ahead of the competition when it comes time for delivery, making sure your projects go off without a hitch every time!
TMC Technologies LLC
+1 712-792-5512
2047 Industrial Park Road
Carroll IA 51401 US