CNC Machining Prototyping Iowa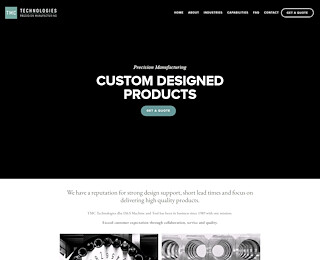 CNC Machining Prototyping: How it Works
At TMC Technologies, CNC Machining Prototyping is at the heart of our success. CNC machining prototyping (Computer Numerical Control) is a process that uses computerized controls to operate and monitor machine tools used in producing parts. CNC machines are programmed with a particular design on CAD software; this program then tells the CNC machines how to cut and shape the material into the desired prototype product. This technology allows for precision manufacturing, allowing part designers to develop high-quality products quickly and cost-effectively.
Why Choose Our Shop For CNC Machining Prototyping?
When it comes to CNC Machining Prototyping, our shop has the skills and experience necessary to produce top-notch prototypes for our customers. Our CNC machining capabilities are complemented by our state-of-the-art CNC machines, tooling, and software which allow us to produce complex parts quickly and accurately. Additionally, we have a team of experienced CNC technicians who understand the process and can provide valuable input into your project from start to finish.
How Can CNC Machining Prototyping Save You Money
Utilizing CNC Machining Prototyping services saves you time and money in comparison with traditional methods like hand fabrication or injection molding. CNC machining allows for quick turnaround without sacrificing quality or precision; this reduces lead times significantly and minimizes material waste due to improved accuracy. Furthermore, CNC machining is cost-effective as CNC equipment can be used to produce multiple parts simultaneously, saving time and money in the process.
How To Select a CNC Machining Prototyping Shop
When looking for a CNC Machining Prototyping shop, it is important to look at the company's experience in CNC machining and prototyping. You should also consider factors such as lead times, quality control standards, material availability, and turnaround times. Additionally, you should ensure that the CNC machines are regularly maintained and serviced to ensure optimal performance. At TMC Technologies we have the expertise and capabilities to offer fast, reliable results with high accuracy levels on all projects.
What Kinds of Industries We Work With
At TMC Technologies we work with a wide range of industries, from electronics and robotics to aerospace and automotive. Our CNC machining services are perfect for prototyping, low-volume production, and one-off parts for any industry. Additionally, our team can work with a variety of materials such as aluminum alloys, plastics, brass, copper alloys, stainless steel, and more.
Additional CNC Machining Services We Offer
In addition to CNC Machining Prototyping, we also offer CNC turning & milling services which allow us to produce complex components quickly and accurately. CNC turning is used to shape cylindrical pieces, while CNC milling is used for the fabrication of complex 3D shapes. CNC turning and CNC milling offer a great way to produce complex parts in short lead times, allowing for a quick turnaround on projects.
Key Takeaways
– CNC machining prototyping is fast and cost-effective
– Our shop has the skills and experience necessary to produce high-quality prototypes
– CNC machining can save you time and money compared with traditional methods
– We work with a variety of industries and materials
– Additional CNC services include CNC turning & milling
At TMC Technologies, CNC Machining Prototyping is our specialty. With an experienced team, advanced CNC machines, and tooling, we are proud to offer top-notch CNC machining services for all our customers. Contact us today to learn more about how CNC Machining Prototyping can help you in your next project.
TMC Technologies LLC
+1 712-792-5512
2047 Industrial Park Road
Carroll IA 51401 US