4 Axis CNC Machining Iowa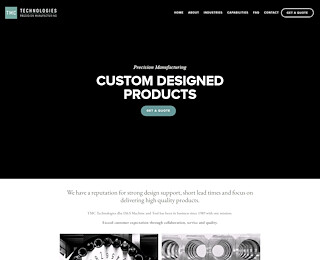 Custom 4 Axis CNC Machining: What It Is and Who Needs It?
TMC Technologies designs and provides custom-made machines and tools to customers who want the best in precision, quality, and accuracy. Our 4-axis CNC machining is a popular choice for many industries, as it allows for the extremely precise production of complex parts with great repeatability while minimizing scrap.
Introducing TMC Technologies
At TMC Technologies, we are committed to creating top-of-the-line CNC machining solutions that meet the most exacting requirements of our customers. Our team is made up of experienced engineers who utilize highly advanced software and technology to design machines that exceed expectations. We work closely with our clients during every stage of product development, from concept creation all the way through prototyping and production of a high-quality product.
What makes Us Different
We've been delivering customer satisfaction for years through custom 4 axis CNC machining services that help businesses increase efficiency and profitability by improving their design processes. Our fast turnaround times ensure our clients make their deadlines without compromising on quality, providing maximum value for money. We understand that when you're looking for a machine shop, it's not just about cost – it's about quality too! That's why we go above and beyond to provide exceptional service.
What is 4 Axis CNC Machining?
4 axis CNC machining refers to a type of computer numerical control (CNC) process where four axes (x, y, z & A) are utilized simultaneously in order to create three-dimensional shapes within limited space or time constraints. This form of machining uses cutting tools such as end mills or drill bits to cut away materials like wood or metal in order to create custom parts with high precision and accuracy when compared with other methods such as jigs or manual labor. The fourth 'A' axis allows for more versatility in designs due to its ability to produce compound angles, something which is impossible with traditional 3 axis systems.
Who Needs 4 Axis CNC Machining?
4 Axis CNC machining services are often sought after by those needing high levels of accuracy in short lead times – particularly those from aerospace, automotive, and manufacturing backgrounds but also include medical device manufacturers too. In fact, anyone requiring intricate design work on metals or plastics generally opts for this type of technology as it offers a greater level of complexity than traditional methods can offer at so much lower cost points than before (especially considering lead times).
Finding A Good Machine Shop
When searching for a good machine shop for your 4 Axis CNC machining needs, there are some essential points you should consider before deciding upon one provider:
Flexibility:
Look at how flexible the shop can be toward new technologies if needed because certain jobs may require different techniques altogether;
Quality Control:
Make sure your provider has strict quality control procedures in place so each part produced meets your exact specifications;
Cost:
Compare prices from several providers, ensuring you get the best deal possible within reasonable market rates.
Why Choose TMC Technologies?
At TMC Technologies, we pride ourselves on offering top-notch customer service coupled with quick delivery turnarounds alongside world-class engineering expertise covering different aspects- particularly when it comes down to applicable operations-related fields, including reverse engineering capabilities, if needed. In short, no job is too big or small when it comes down to what matters most – precision and accuracy requirements put forth by our customers making us true standouts within the industry.
TMC Technologies LLC
+1 712-792-5512
2047 Industrial Park Road
Carroll IA 51401 US